The Vampire - Rose Gold 2 Teeth
---
In stock, ready to ship

Inventory on the way


Free returns up to 30 days for products that have not been worn or used. Used items will not be refunded.
Gold Plated Products are made to last with correct care. Please do not use when eating or drinking.
Competition Compare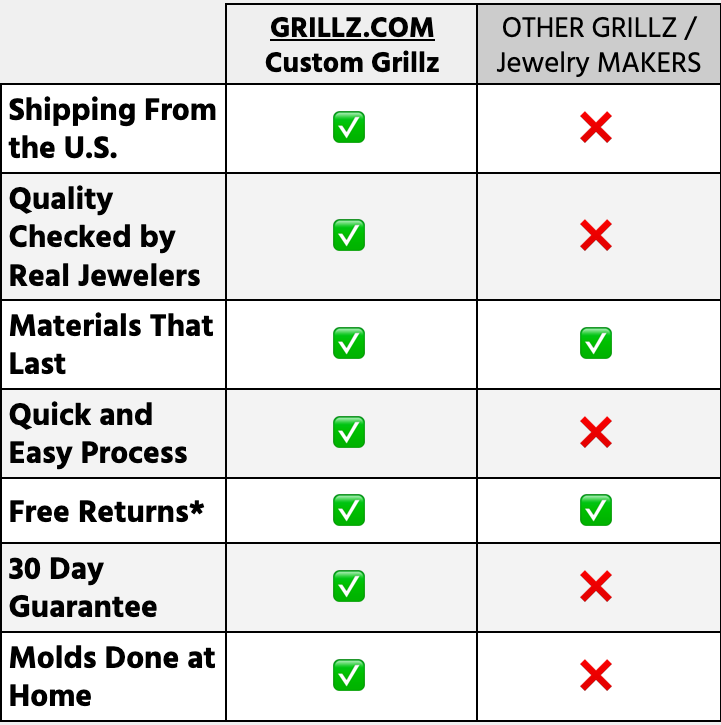 There's a lot to consider when ordering custom Fang Grillz. One of the trickiest parts is making sure these dental accessories fit your teeth perfectly. But with 10,000+ happy customers around the world boasting their perfect set of fangs in all different hues, shapes and sizes; we have everything you need for your new accessory! From our 100% satisfaction guarantee on workmanship as well as our dust-free casting process - we're confident that you'll be able to walk among humans again without fear of not looking good enough thanks to these Vampire Grillz.
The most popular Grillz on our site! These custom made Fang Grillz can be fitted for the top canines, bottom canines or both and come in 10k Gold, 14k Gold, or 18k Gold. Our alternative metal options include White Gold, Yellow Gold, or Sterling Silver. Our expert jewelers craft each pair to fit your teeth flawlessly. No one makes them better! Get your today!
Free Mold Kit Included!
FAQS
STEP 1:
Buy your Grillz here and receive your Impression kit at purchase to start your journey.
To get started you have to buy one of our grillz via our website, or in person so we can ship you your impression kit or schedule a personal meeting for special orders or celebrities. Either way it's risk free.
STEP 2:
We create your customized Grillz!
We make a 3D image of your teeth that lets us see what's going on. Then, one of our professional grillz makers certified by Grillz.com reviews and starts the creation process of your custom Grillz.
STEP 3:
Get your New Grillz and start your journey!
We share a preview of your Grillz transformation, then create your custom Grillz. We'll ship them to you all at once, so there's no wait.
At first, you'll make sure they fit nice and snugly.
You'll have 3 days from reception to let us know if there are adjustments needed to your Grillz. After that point we can no longer accept changes to the Grillz and for further inquiries there will be a custom quote sent to the buyer for any special requests or modifications (
See Terms for more details).
Design your Grillz
Still have questions?
How does Grillz work?
Our custom Grillz come as a personal set of molded jewelry that goes preferably on your teeth. Each Grillz will be made specific to your personal tooth position, a process that is mapped out in advance by an impression kit that is sent to your home, and then after sending it back to us we create those custom Grillz based on what you've selected or what your specific order is. You'll begin wearing a new set of Grillz once we're done creating them and sending them over, advancing you to the next stage of your imminent fame. We make it even easier by shipping your Grillz directly to you.
What are Grillz?
Grillz, for the uninitiated, are gold or diamond fake teeth that cover or that are worn over teeth. They can be made from a lot of other jewelry materials and not just gold or diamonds, but these seem to be the most popular ones.
ONE SIZE FITS ALL Shipping Policy: 
All of our orders processed and shipped via USPS are sent within 4-14 business days; tracking details will be sent to your email once your package has been shipped.
Custom Grillz Shipping Policy: 
Please note that custom-made grillz require a mold kit to be sent back to us via USPS so that we may create a perfectly fit grill. Our shipping fees cover the cost of all shipping including mold kit to and from your location as well as the delivery of the final crafted grillz with signature and ID. 
Chains and Pendants Shipping Policy: 
Orders for other jewelry is processed and shipped via USPS are sent within 4-14 business days; tracking details will be sent to your email once your package has been shipped.
 Select AfterPay at checkout:
Select installments at checkout to split your purchase into 4 interest-free payments.